Dropkick Murphys in Sauget, IL.
All photos taken by Luke Spencer
at Pop's on June 12th, 2018.
It might have been a  very warm night just outside of St. Louis but the environment could not have been better for the return of Dropkick Murphys to the area.  On the set of Pop's outdoor concert stage, the band performed songs through twenty years of music including tracks from their latest album 11 Short Stories Of Pain & Glory.
One of the highlights came when the question from the stage was asked: "How many of you have been with us since 1994?"  After a few people in the crowd cheered, a reply came on the microphone saying "We weren't around in 1994!   You all lied!  Get out of here!"  It was a special moment and a genuine laugh from everyone in the crowd.
Dropkick Murphys are currently on a co-headline tour celebrating 20 years of mayhem with Flogging Molly.  Click on any photo below to open the gallery and scroll below the photos to watch the music video for "Until The Next Time" as well as the remaining tour dates to see where they are heading.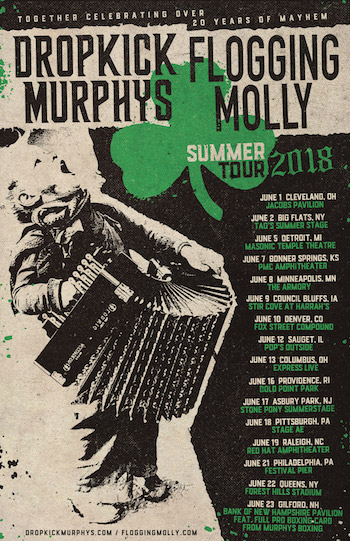 Comments
comments