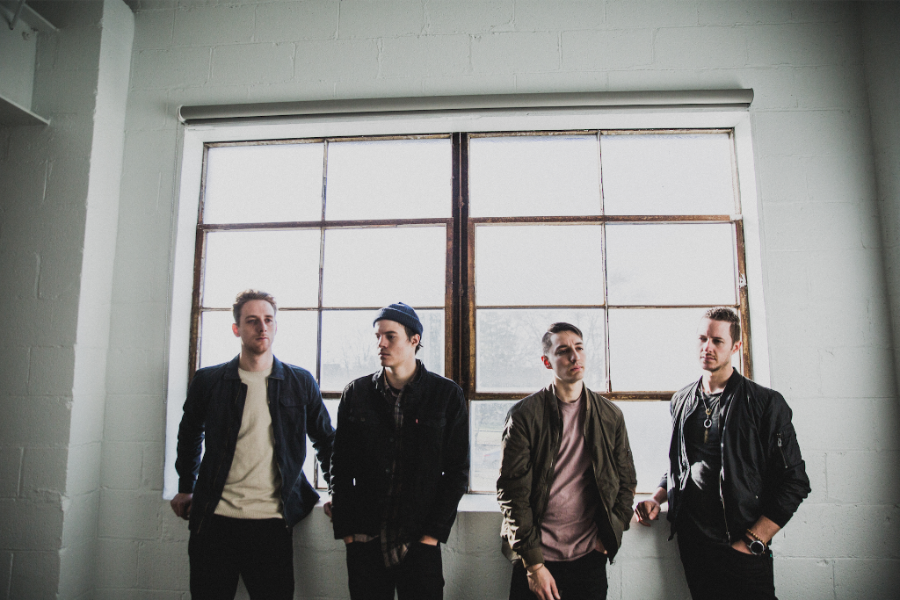 Ohio's THE PLOT IN YOU have been announced as direct support to We Came As Romans on the upcoming 2018 Cold Like War Tour. The 33-date tour in support of their fourth studio album DISPOSEwill kick off on February 28 in Pittsburgh's Rex Theater and end April 28 in Grand Rapids' The Intersection. Oceans At Alaska, Currents, and Tempting Fate will also be on the tour through its run in the US. Tickets go on sale January 8 at 10am PST and can be purchased here: 
In addition to the tour announcement, the band will be releasing their fourth studio album DISPOSE on February 16 through Fearless Records. The album features 10 tracks chronicling the experiences of lead singer-songwriter Landon Tewers detaching himself from a toxic relationship and explores the stages of said relationship through his songwriting. Los Angeles-based producer Drew Fulk co-produced the effort alongside Tewers, being the first producer to ever be involved in TPIY's studio process. The album is available for pre-order on ThePlotInYou.com. 
"This album is our proudest release so far, it's almost a complete restart on the band," explains Tewers. "The music has continued to naturally evolve in the way that we have wanted it to for a long time and we have a completely new team helping to roll it out which has been refreshing."
THE PLOT IN YOU is Landon Tewers (Vocals), Josh Childress (Guitar), Ethan Yoder (Bass) and Mathis Arnell (Drums).
THE PLOT IN YOU – When the Ohio quartet—Landon Tewers [vocals], Josh Childress [guitar], Ethan Yoder [bass], and Mathis Arnell [drums]—began recording what would become their fourth full-length album and first for Fearless Records, DISPOSE, the process spurned the genesis of this next chapter for the band. For the first time, The Plot In You enlisted the talents of producer Drew Fulk. Another first, the band worked together to fine tune the music sonically; whereas, on previous records, songwriting and recording fell solely to Landon. As a result, these ten tracks comprise their most cohesive body of work to date. Lyrically, the songs depict a toxic personal relationship where, in the past, Landon had focused on formative years and fictional scenarios. In DISPOSE, the topics hit on a more intimate level about an experience as it unfolded in the moment, while representing a marked evolution. That kind of emotion has connected The Plot In You to listeners since day one. Over the course of three full-length albums, the group has spent years crafting their unique take on modern rock, transcending genres from metalcore to alternative, delivered fan favorite anthems such as "My Old Ways" and "Take Me Away," and landed on the Billboard Top 200 with their third album Happiness In Self Destruction. Now, DISPOSE positions The Plot In You to make their deepest impact yet.
COLD LIKE WAR TOUR DATES
2.28 Pittsburgh, PA – Rex Theater
3.1 Toledo, OH – Civic Music Hall
3.2 Joilet, IL – The Forge
3.3 Milwaukee, WI – Miramar Theatre
3.4 Minneapolis, MN – Cabooze
3.6 Denver, CO – Marquis Theater
3.7 Salt Lake City, UT – In The Venue
3.8 Noise, ID – Knitting Factory
3.9 Seattle, WA – Studio Seven
3.10 Portland, Or – Bossanova Ballroom
3.11 Sacramento, CA – Holy Diver
3.13 Berkeley, CA – Cornerstone
3.14 Fresno, CA – Strummers
3.15 Las Vegas, NV – Vinyl At The Hard Rock
3.16 Pomona, CA – Glasshouse
3.17 Los Angeles, CA – El Rey Theatre
3.18 Phoenix, AZ – Joe's Grotto
3.21 Lubbock, TX- Jake's
3.22 Oklahoma City, OK – 89th Street
3.23 Houston, TX – Scout Bar
3.24 Austin, TX – Come And Take It Live
3.25 Dallas, TX – Trees
3.27 Tampa, FL – Crowbar
3.28 Ft. Lauderdale, FL – Culture Room
3.29 Spartanburg, SC – Ground Zero
3.30 Greensboro, NC – Blind Tiger
3.31 Virginia Beach, VA – Shakas
4.3 Philadelphia, PA – Foundry
4.4 New York, NY – Gramercy Theater
4.5 Worcester, MA – The Palladium
4.6 Syracuse, NY – Lost Horizon
4.7 Pontiac, MI – The Crofoot
4.8 Grand Rapids, MO – The Intersection
Comments
comments