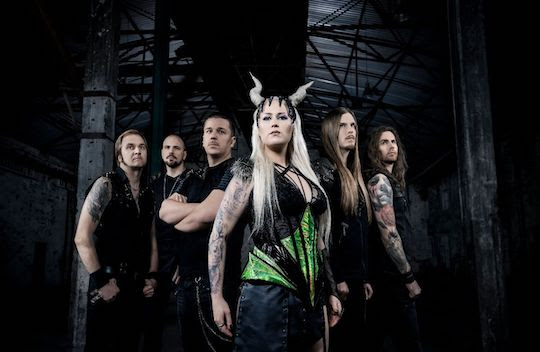 After re-signing to Nuclear Blast in early 2021, the Finnish heavy metal sextet BATTLE BEAST are once again getting ready to unleash their force upon the world in the shape of their brand new masterpiece "Circus of Doom." The album is set to be released on January 21st 2022 via Nuclear Blast and in true BATTLE BEAST fashion, the 10 tracks blend true heavy metal with pop and rock-vibes, paired with Noora Louhimo's unique voice.
Today, the band release their inspiring and powerful third single "Where Angels Fear to Fly," that also comes with a music video.
Janne Björkroth comments: "'Where Angels Fear to Fly' was born of gratitude to those who have had the courage to change the world. With the song we want to show our respect for those who have been cracking unequal structures for generations. It was inspired by our grandparents and other brave pioneers who have worked hard for a more equal society.
'Where Angels Fear to Fly' is dedicated to everyone who has encountered discrimination, unfair obstacles, or prejudices in their lives. It is written as an empowerment song for those who have to struggle to be heard and to gain the appreciation that every single one of us deserves."
"Circus of Doom" was recorded at JKB Studios in Helsinki, Finland and produced and mixed by keyboardist Janne Björkroth, while the stunning artwork was created by Jan Yrlund.
Pre-order "Circus of Doom" in the format of you choice here: https://bfan.link/circusofdoom
Tracklist
1. Circus of Doom
2. Wings of Light
3. Master of Illusion
4. Where Angels Fear to Fly
5. Eye of the Storm
6. Russian Roulette
7. Freedom
8. The Road to Avalon
9. Armageddon
10. Place That We Call Home
Recently, BATTLE BEAST also announced their Circus of Doom North American Tour with DRAGONFORCE that will begin March 20th in Denver, CO through April 23rd in Berkeley, CA. Tickets are on sale now at https://battlebeast.fi/tour. 
Commenting on the tour, vocal powerhouse Noora Louhimo states: 
"Battle Beast is coming to you sounding and looking better than ever before! We are very excited to unite our forces with Dragonforce for a North America tour. I think this will be an epic combination of heavy metal energy and our fans will be getting 300% of explosive entertainment with our new album "Circus of Doom" let loose on stage. Get ready to be mesmerized with high screams, new horns and new Battle Beast."
BATTLE BEAST "CIRCUS OF DOOM NORTH AMERICAN TOUR" DATES:
Mar 20 – Denver, CO – Oriental Theater
Mar 22 – Lawrence, KS – Granada Theater
Mar 23 – St. Louis, MO – Red Flag
Mar 24 – Milwaukee, WI – Rave II
Mar 25 – Minneapolis, MN – First Avenue
Mar 26 – Chicago, IL – Metro
Mar 27 – Detroit, MI – St. Andrews Hall
Mar 29 – Ft. Wayne, IN – Piere's
Mar 30 – Toronto,ON – Opera House
Mar 31 – Montreal, QC – Corona Theatre
Apr 1 – Quebec City, QC – Imperial Bell
Apr 2 – Worcester, MA – The Palladium
Apr 3 – New York, NY – Irving Plaza
Apr 5 – Reading, PA – Reverb
Apr 6 – Cleveland, OH – Agora Theater
Apr 7 – Baltimore, MD – Sounstage
Apr 8 – Pittsburgh, PA – Roxian Theater
Apr 9 – Greensboro, NC – Arizona Petes
Apr 10 – Atlanta, GA – The Masquerade
Apr 12 – Tampa, FL – Orpheum
Apr 13 – Ft. Lauderdale, FL – Revolution
Apr 15 – Dallas, TX – Amplified Live
Apr 16 – Houston, TX – Warehouse Live
Apr 17 – Austin, TX – Come and Take It Live
Apr 19 – Mesa, AZ – Nile Theater
Apr 20 – Las Vegas, NV – House of Blues
Apr 22 – Los Angeles, CA – Belasco Theater
Apr 23 – Berkeley, CA – UC Theater
Since their 2011's debut album "Steel," BATTLE BEAST have achieved over 200 million digital streams. Alongside the huge #1 success of their last three albums in the album charts of their home country, Finland, their last album "No More Hollywood Endings" (2019) reached a remarkable #11 in German album charts.
Follow Battle Beast:
Website | Facebook | Twitter | Instagram | Youtube