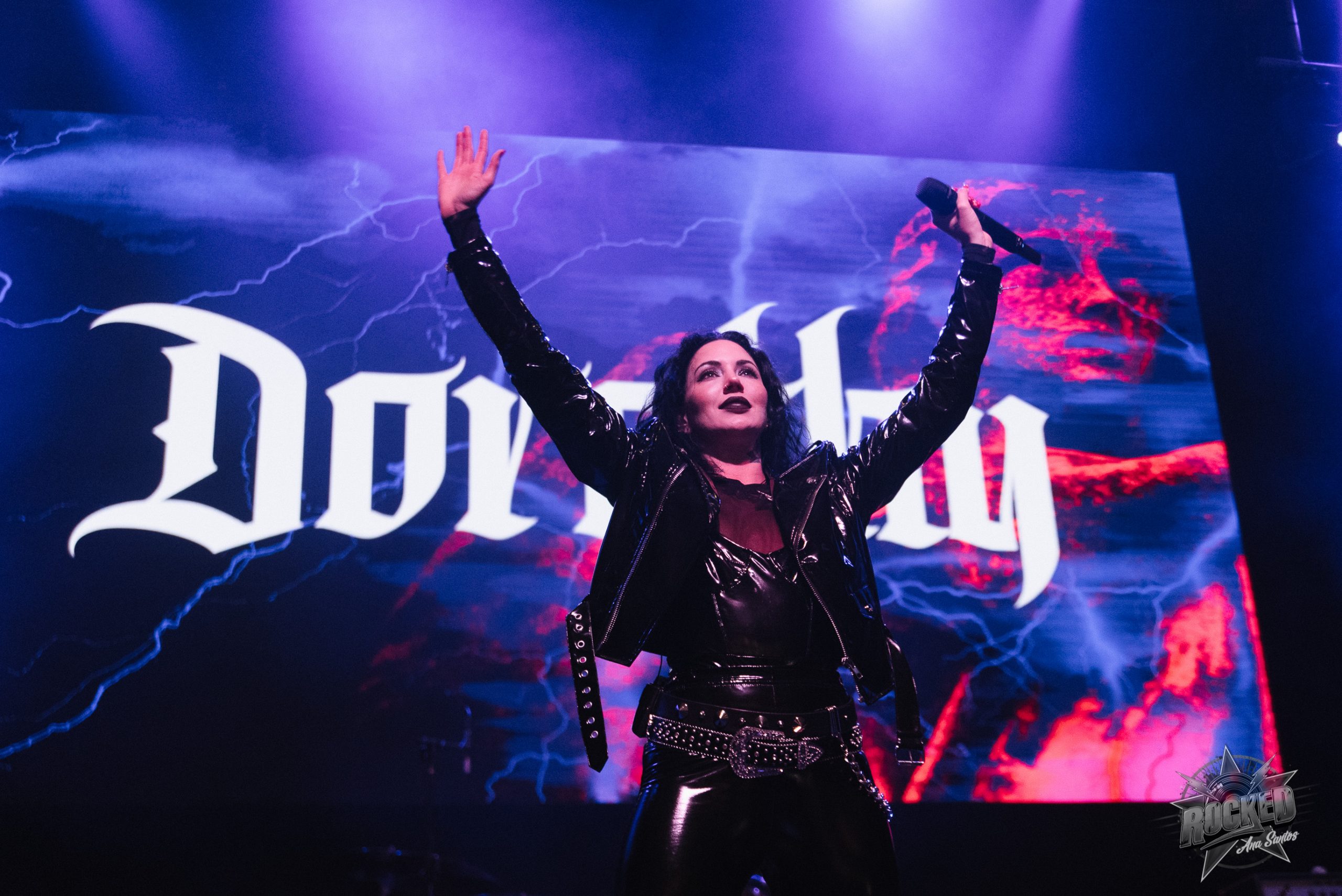 Just a week out from the highly anticipated third album, Gifts From the Holy Ghost, Dorothy swaggered onto the stage at Montclair, NJ's The Wellmont Theater to the cheers of adoring fans. It's been three years since New Jersey last saw Dorothy on one of our stages, and in that time, Hungarian-born frontwoman Dorothy Martin, traded in her flowy 70's rock inspired garb for slick leather and chrome and the fans were very much there for it.
With the energy amped up to 11, Dorothy played a solid 12-track rapid-fire rock set with very little downtime. What short moments there were in between songs, Martin spent them by flashing heart-hands at the crowd, always accompanied by a huge smile that showed just how much fun she was having.
While the setlist leaned heavily on the band's 2016 Rock Is Dead, Dorothy did give us a little taste of what's coming our way in Gifts From the Holy Ghost with "What's Coming to Me" and "Rest in Peace," both vocally strong bluesy rock tracks with some serious swagger.
Dorothy Setlist:
01. Down to the Bottom
02. Gun in my Hand
03. Ain't Our Time to Die
04. What's Coming to Me
05. Sweet Dreams (Are Made of This) cover
06. Rest in Peace
07. Raise Hell
08. After Midnight
09. Medicine Man
10. Flawless
11. Freedom
12. Dark Nights
Dorothy's tour continues tomorrow night in Boston, MA. The remaining dates are listed below. Be sure to check out the tour and if you do, arrive early enough to catch two great openers.
I, unfortunately, was not early enough and missed the first ten minutes of Classless Act's set. While not familiar with the band's sound, that is a name I've been hearing circulating recently so I'm glad I finally had the chance to get acquainted. Even for just a little while. The LA band did a fair job warming up the crowd with a solid offering of metal tracks, including a surprising cover of Guns n' Roses' "Civil War."
Fellow California natives, Joyous Wolf followed with a dizzying 45 minute set of hard rock accompanied by frontman Nick Reese's trademark acrobatics. Self-proclaimed perfectionists, Joyous Wolf has been working hard to release its debut album, which we should expect sometime this year. In the meantime, the band continues to make soundwaves with high-octane performances.
Dorothy Tour Dates:
April 20 Paradise Rock Club – Boston, MA
April 21 Aura – Portland, ME
April 23 House of Blues Cleveland – Cleveland, OH
April 24 The Bluestone – Columbus, OH
April 26 Saint Andrews Hall – Detroit, MI
April 27 Elevation @ The Intersection – Grand Rapids, MI
April 28 Piere's – Fort Wayne, IN
April 30 House of Blues Chicago – Chicago, IL *Live Stream
May 1 Majestic Theater – Madison, WI
May 2 Varsity Theater – Minneapolis, MN
May 3 Slowdown – Omaha, NE
May 5 recordBar – Kansas City, MO
May 6 TempleLive at Wichita Scottish Rite Center – Wichita, KS
May 8 Summit Music Hall – Denver, CO
May 10 Knitting Factory Concert House – Boise, ID
May 11 Knitting Factory Concert House – Spokane, WA
May 13 El Corazon – Seattle, WA
May 14 Hawthorne Theater – Portland, OR
May 15 Virginia Street Brewhouse – Reno, NV
May 18 Ace of Spades – Sacramento, CA
May 19 Crossroads at House of Blues Anaheim – South Anaheim, CA
May 27 BottleRock Napa Valley 2022 – Napa, CA
August 11 Rockin the Rivers 2022 – Three Forks, MT
September 22 Louder Than Life 2022 – Louisville, KY
Follow Dorothy:
Website | Facebook | Twitter | Instagram | Youtube