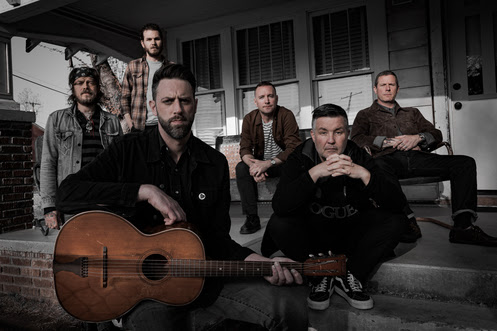 Dropkick Murphys' new album This Machine Still Kills Fascists is out today (digitally and on CD) via the band's Dummy Luck Music / [PIAS], with a special edition vinyl out November 11. TMSKF is unlike anything Dropkick Murphys have done to date: A full album of songs that bring Woody Guthrie's words to life. Not a tribute album or a collection of covers, This Machine Still Kills Fascists is a collaboration between Dropkick Murphys and Woody Guthrie – artists separated by time and space, but connected by a common philosophy – to create something entirely new.
Order the album here: https://dropkick-murphys.ffm.to/7reo1k8
The newest single and video from the album, "The Last One" – featuring Evan Felker of Turnpike Troubadours – is also out today. The stark video was shot at The Church Studio in Tulsa (where the album was recorded) and Woody Guthrie and Evan Felker's shared hometown of Okemah, OK. A working class lament, "The Last One" sees Felker and DKM's Ken Casey trading verses about the disconnect between the foot of oppression forever pressing on the throats of the working class and the hollow, sanctimonious ideals used to justify that subjugation – while promising "we might lose many a fight, but we'll damn sure win the last one." Watch the video here:
In a September 29 review of This Machine Still Kills Fascists, No Depression's Jim Shahen sums up Dropkick Murphys' connection not only to Guthrie's lyrics but to his working class ethos: "No current act has done more to preserve and advance the legacy of Woody Guthrie…Nearly 60 years since his death, the struggles of working men and women and political oppression continue unabated. Those in need remain unheard by people in power. But much like Woody Guthrie, Dropkick Murphys are still out there fighting the good fight."
To that end, on Tuesday, the Ohio AFL-CIO presented a lifetime achievement award to the band, extending "special recognition to the Dropkick Murphys for their support of organized labor and dedication to telling the story of the working class through their music for over 25 years."
"The delegates of the Ohio AFL-CIO are proud to recognize the Dropkick Murphys for a career of empowering working people through their music," said Ohio AFL-CIO President Tim Burga. "The Dropkick Murphys' support of organized labor and dedication to telling the story of the working class is unparalleled and their impact is significant."
Coinciding with the album's release, part 2 of Dropkick Murphys live at Paste Studio on the Road: Boston is streaming starting today at 2:00 PM ET at https://youtu.be/kYfQEeA8K8g. The acoustic set includes new single "The Last One" along with TMSKF tracks "All You Fonies" and "Where Trouble Is At."
Dropkick Murphys founder Ken Casey also sat down this week with NPR's Here & Now to discuss This Machine Still Kills Fascists and the importance and enduring timeliness of Guthrie's lyrics. That interview can be heard here:
This Machine Still Kills Fascists continues Dropkick Murphys' journey with Woody Guthrie that began nearly two decades ago with "Gonna Be A Blackout Tonight" and "I'm Shipping Up To Boston." For those two songs, Dropkick Murphys pulled Guthrie's lyrics into their musical world, giving them the DKM treatment through and through. For this album – created from a larger body of mostly unpublished works, curated for the band by Woody's daughter Nora Guthrie – they knew they needed to enter Woody's musical world, an altogether new challenge for a band whose raw power had relied on searing electric guitars up until this point.
Dropkick Murphys and their longtime producer Ted Hutt aptly recorded This Machine Still Kills Fascistsat The Church Studio in Tulsa (just a few minutes from Woody Guthrie's birthplace, and the modern-day Woody Guthrie Center). The historic studio was founded by Leon Russell and was the original location of legendary Shelter Records. During the album sessions, Dropkick Murphys made a point to visit Woody's hometown of Okemah and walk the same streets Woody walked. Retreating to Woody's home state of Oklahoma to record the album had a powerful effect on the band and the creative process behind these songs. Ultimately, Dropkick Murphys had so much material based on Woody's poignant lyrics that they recorded two albums, with Vol. 2 scheduled for release in 2023.
Next month, Dropkick Murphys will launch their first-ever reserved seating theater tour – This Machine…Theater Tour – October 20 in support of this very special and powerful acoustic album. Jaime Wyatt will be the main support on this U.S. tour – as well as joining DKM on stage for the duet "Never Git Drunk No More" – and Jesse Ahern will open the shows. Dropkick Murphys' fall tour dates also include a headlining slot at Punk In The Park in Orange County, CA in November. In addition, a fourth date has been added to Dropkick Murphys' previously announced 2023 St. Patrick's Day Week hometown shows in Boston, after the initial dates sold out. The new date, March 16 at MGM Music Hall at Fenway, features very special guests Turnpike Troubadours and Nikki Lane (who also guests on the album track "Never Git Drunk No More").
Visit www.DropkickMurphys.com for a list of tour dates and to purchase tickets.