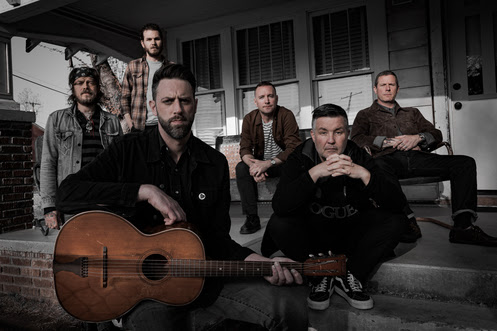 Dropkick Murphys will continue their journey interpreting the work of Woody Guthrie for a new generation with the May 12 release of their latest album Okemah Rising via the band's Dummy Luck Music / [PIAS]. The 10-track album (available on CD, LP and streaming services worldwide) takes off from 2022's This Machine Still Kills Fascists, on which Dropkick Murphys write original music around previously-unpublished lyrics of the late Guthrie in a unique collaboration, with the band finding a common philosophy in the timeless and timely lyrics of the "original punk."
Joined by trusted collaborator and producer Ted Hutt, Dropkick Murphys channeled Guthrie's spirit during the recording sessions in Tulsa. And much like on This Machine Still Kills Fascists, Dropkick Murphys welcomed guest artists on Okemah Rising to help propel Woody's words, including folk punk legends Violent Femmes, fellow Boston rebel Jesse Ahern, and country songstress Jaime Wyatt.
Dropkick Murphys founder and vocalist Ken Casey explains, "Every night, when the audience is singing along with Woody's words, his steadfast defense of the working class, and his fight against social injustice and the abuse of political power comes across loud and clear. So as long as Dropkick Murphys are involved, Woody's message will always be heard."
Pre-order the Okemah Rising CD and vinyl from the DKM web store here: https://dropkickmurphys.store  
Okemah Rising's first single and video "I Know How It Feels," gallops out of the gate towards an empathetic middle-class commiseration with the refrain, "I know how it feels to work 'til you drop, and it's 10,000 bills that you owe."
Okemah Rising follows Dropkick Murphys' highly-acclaimed This Machine Still Kills Fascists album, which exposed the band to new audiences through airplay on stations like SiriusXM's Outlaw Country, coverage in outlets such as Rolling Stone Country, Paste, CNN, Americana Highways and SPIN, and via Dropkick Murphys' first-ever acoustic, reserved-seating theater tour in 2022.
Okemah Rising is the final acoustic release from Dropkick Murphys' recording sessions in Tulsa. This era in the band's history will be captured in a documentary following their journey writing, recording, and performing the 20 songs they've crafted around Woody's never-before-seen lyrics for these two albums.
Starting today, March 1, Dropkick Murphys come full-circle with their live shows, launching Pega Presents…Dropkick Murphys St. Patrick's Day 2023 Tour with fully-electric rock shows now through March 19, with the tour culminating in four sold-out hometown shows in Boston. The Rumjacks and Jesse Ahern open most dates. Very special guests Turnpike Troubadours join Dropkick Murphys for three of the Boston shows (March 16-18) and Nikki Lane alsojoins the bill on March 16.
Dropkick Murphys' world famous St. Patrick's Day show will also be live streamed via Veeps on March 17 at 8:00 PM ET / 5:00 PM PT. Tickets are available at: DropkickMurphys.veeps.com
The St. Patrick's Day Tour will showcase fan favorites along with some new songs from Okemah Rising, including "I Know How It Feels" and "Gotta Get To Peekskill," which DKM also played during their hugely successful European tour this winter. A highlight from the European tour was performing "Cadillac, Cadillac" (from This Machine Still Kills Fascists) and "Gotta Get To Peekskill" (from Okemah Rising) on Taratata, France's long-running and #1 music television show.
Highlights of Okemah Rising include collaborations with folk punk progenitors Violent Femmes on "Gotta Get To Peekskill,"country singer songwriter Jaime Wyatt on "Bring It Home," and Bostonian upstart Jesse Ahern (whose forthcoming album will be released on Dropkick Murphys' Dummy Luck Music label) on "Rippin Up The Boundary Line." The album comes to a fitting and triumphant close with "I'm Shipping Up To Boston – Tulsa Version." Dropkick Murphys reinvent and reinvigorate their most famous Guthrie collaboration acoustically without sacrificing any of its punch, passion, and power.
Casey reveals, "Many people never realized that the lyrics for 'I'm Shipping Up To Boston' were written by Woody Guthrie, so we felt it important to include the song on this project and give it a proper home among the rest of our collaborations with his lyrics. We knew we needed to add some twists and turns to make this version special and fitting for this collection, so we gave it the Tulsa treatment."
As 2023 wears on, Okemah Rising is the best soundtrack we have to the uprising of workers in the modern economy – one that Woody couldn't have ever dreamed of in his day of industrial labor. Remarkably, Guthrie's lyrics ring true even today, as we see baristas, internet retail warehouse workers, and medical students fight the billionaire corporate overlords with their efforts to unionize.
Nearly three decades in, Dropkick Murphys stand with their audiences and the working class, as they rally around the undying words of Woody Guthrie – their hero, and the original punk.
Given the universality and timelessness of Woody Guthrie's lyrical themes, and Dropkick Murphys' popularity around the globe, the songs from these two albums have resonated worldwide. In February, at the band's sold-out London Wembley Arena show, vocalist Ken Casey tailored the chorus of union anthem "All You Fonies" (from TMSKF) to the room, replacing "Fonies" with "Tories." That timely lyrical shift brought Guthrie's decades-old lyric into the modern-day malaise of countless British unions (maritime, rail, transit, nurses, firefighters, postal workers, teachers, health care workers and more) battling with the nation's corporate elite and Tory politicians. The band released a video for "All You Tories" featuring performance footage and animation: https://youtu.be/SLqb535hBi0
And in the U.S., the AFL-CIO recently recognized Dropkick Murphys with a lifetime achievement award, highlighting the band's "career of empowering working people through their music."
The vinyl edition of Okemah Rising includes the exclusive bonus song "Talking Hard Work." Vinyl pre-orders at https://dropkickmurphys.store will include a free limited edition 7-inch with acoustic versions of Dropkick Murphys' classics "Barroom Hero" and "Skinhead On The MBTA" recorded live at Ryman Auditorium in Nashville. These are exclusive to the Dropkick Murphys web store and will not be sold at retail. Three exclusive Okemah Rising t-shirt designs are also available at https://dropkickmurphys.store. 
| | | |
| --- | --- | --- |
| Date | City | Venue |
| Wed., Mar. 1 | Charlotte, NC | Fillmore * (SOLD OUT) |
| Fri., Mar. 3 | Orlando, FL | House of Blues * (SOLD OUT) |
| Sat., Mar. 4 | St. Petersburg, FL | Janus Live * (SOLD OUT) |
| Sun., Mar. 5 | Pensacola, FL | Vinyl Music Hall * (SOLD OUT) |
| Thu., Mar. 6 | Atlanta, GA | The Eastern * |
| Tue., Mar. 7 | Huntsville, AL | Mars Music Hall * |
| Wed., Mar. 8 | Indianapolis, IN | Egyptian Room * |
| Fri., Mar. 10 | Louisville, KY | Old Forester's Paristown Hall * (SOLD OUT) |
| Sat., Mar. 11 | Milwaukee, WI | UW Milwaukee Panther Arena(solo show) |
| Sun., Mar. 12 | Grand Rapids, MI | 20 Monroe * |
| Mon., Mar. 13 | Columbus, OH | Kemba Live! * |
| Tue., Mar. 14 | Wilkes-Barre, PA | Mohegan Sun Arena at Casey Plaza * |
| Thu., Mar. 16 | Boston, MA | MGM Music Hall at Fenway ** (SOLD OUT) |
| Fri., Mar. 17 | Boston, MA | MGM Music Hall at Fenway *** (SOLD OUT) |
| Sat., Mar. 18 | Boston, MA | MGM Music Hall at Fenway **** (SOLD OUT) |
| Sun., Mar. 19 | Boston, MA | House of Blues * (SOLD OUT) |
* with The Rumjacks & Jesse Ahern
** with Turnpike Troubadours & Nikki Lane
*** with Turnpike Troubadours & The Rumjacks
**** with Turnpike Troubadours & Jesse Ahern
Dropkick Murphys' current tour itinerary also includes North American festivals (Sunfest, Punk Rock Bowling, Atlantic City Beer And Music Festival, Festivoix and Big Birthday Bash), as well as summer European festivals. Visit https://dropkickmurphys.com/tour/ for all tour dates.
Follow Dropkick Murphys:
Website | Facebook | Twitter | Instagram