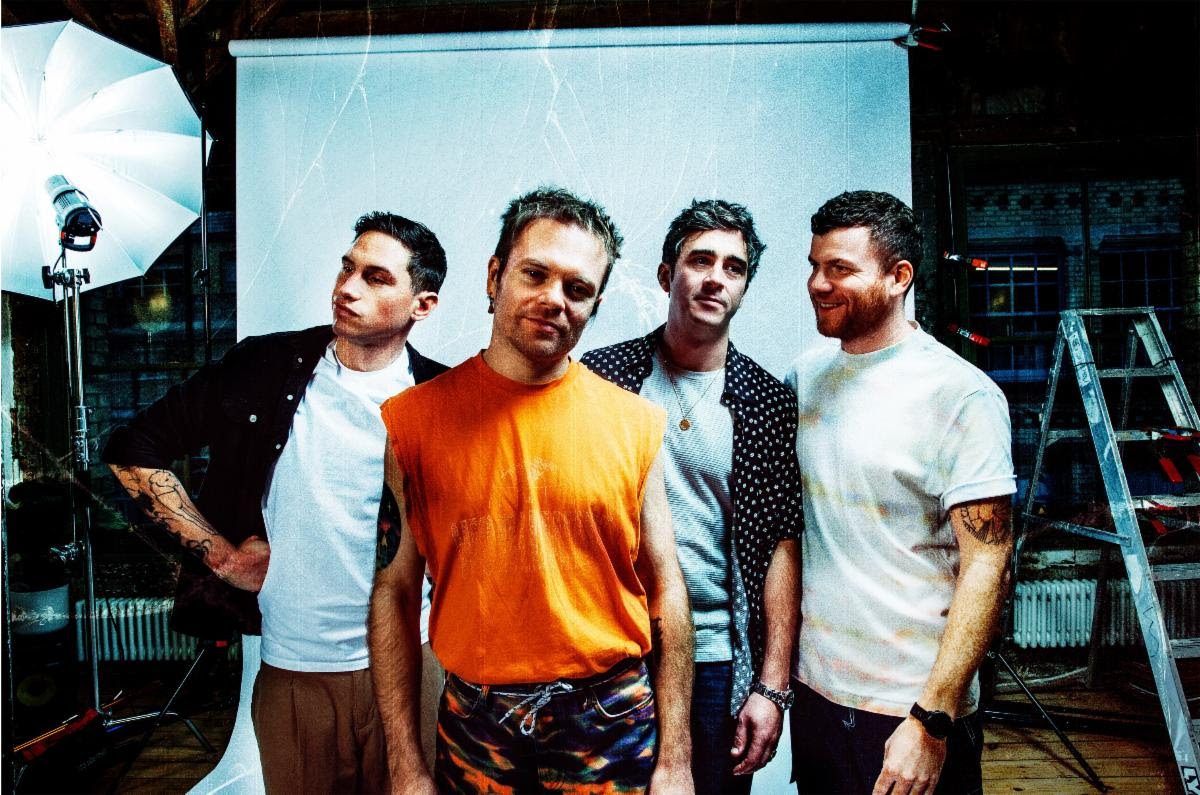 Enter Shikari are today sharing "Bloodshot", the third single to be taken from their highly-anticipated forthcoming album A Kiss For The Whole World, which will be released on 21st April via SO Recordings / Ambush Reality. Listen to "Bloodshot" on streaming services here.
"Bloodshot" follows recent singles "(pls) set me on fire"and "It Hurts", both of which were instantly embraced with open arms by fans old and new, and received their first live outings during the band's sensational run of sold-out February residency shows in the UK. For Enter Shikari, rejuvenation, resilience and resurrection have been on the agenda as they introduce new music to the world. However, in the arrival of "Bloodshot" the band have more questions to pose themselves, and us.
Lead vocalist and producer Rou Reynolds explains:
"Every day, I seem to be asking myself "Is this article biased?", "is this claim true?", "Should I be more furious about this issue? Or less furious?", "Am I being manipulated? Provoked? Radicalised by my own 'tribe'?.
"Bloodshot" is about how hard it is to find truth, and how easy it is to stop thinking for yourself and simply repeat your 'team's' mantras.
Everyone's so fucking angry with everyone else and it's exhausting. It seems like social media's main purpose these days is to hypnotise us to hate."
Pre-order A Kiss For The Whole World here. Limited formats of the new album come packaged with the Live From Alexandra Palace 3 album & DVD, recorded live in December 2021 at the band's sold out 10,000 capacity London show.
Enter Shikari
A Kiss For The Whole World
Tracklisting
1. A Kiss for the Whole World x
2. (pls) set me on fire
3. It Hurts
4. Leap into the Lightning
5. feed yøur søul
6. Dead Wood
7. Jailbreak
8. Bloodshot
9. Bloodshot (Coda)
10. goldfĭsh ~
11. Giant Pacific Octopus (i don't know you anymore)
12. giant pacific octopus swirling off into infinity…
Enter Shikari have also announced an intimate all ages matinee show at Chain Reaction in Anaheim, CA on April 30th, to accompany their sold out run of very special album release shows across UK, Europe and the US. Alongside their matinee show, the band will be hitting Los Angeles (5/03), Chicago (5/5) and New York (5/10) for their special US run.
For full dates, info and tickets head to www.entershikari.com
Follow Enter Shikari:
Website | Facebook | Twitter | Instagram