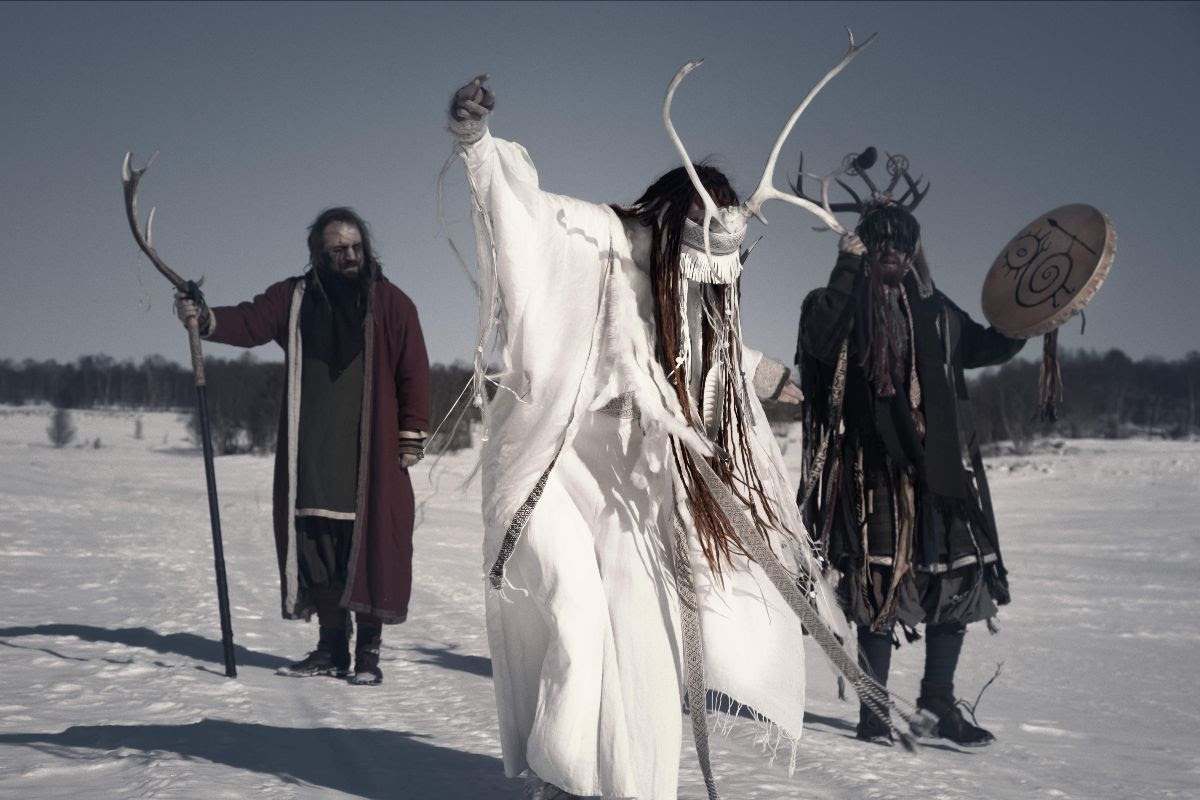 Enigmatic ritual music collective HEILUNG will be releasing its highly-anticipated third full-length, 'Drif,' on August 19, 2022 via Season of Mist! The band has recently revealed the third single from the offering, "Tenet," which can be found along with a mood video at THIS LOCATION.
The band explains, "HEILUNG comment on the track: "Our third single release is a palindrome. All individual musical parts, melodies and instruments (and even at times the lyrics) play the same both forward and backwards. The song is based on the "Sator Square", the earliest datable two-dimensional palindrome, first found in Herculaneum (Italy), a city buried under the ashes of the erupting Mount Vesuvius in 79 AD, at that time part of the flourishing Roman Empire. What is particularly interesting with this palindrome is that not only does it read forwards and backwards but also vertically in both directions. 
S A T O R
A R E P O
T E N E T
O P E R A
R O T A S
"The unusual melody of the piece is created with a special code system employing numbers, runes and Latin letters taken from the square itself, and deciphered in a complicated system to give birth to Heilung's first melodic palindrome. Love from Heilung"
In addition, HEILUNG will be bringing their live ceremony to North America next month and tickets are selling fast! Atlanta, Asheville, Seattle, San Francisco, and Phoenix have sold out entirely while tickets are running lowfor Worcester and Portland. Additionally, due to high demand, the New York venue has been upgraded to The King's Theatre in Brooklyn, NY. Tickets purchased for the original location will be honored. Don't sleep on this and get your tickets now at THIS LOCATION.
The band is currently touring the European festival circuit. All upcoming live dates are below!
Pre-sales are now live for 'Drif!' Pre-order your copy HERE.
'Drif' can be pre-saved across digital streaming services HERE.
HEILUNG's song "Hakkerskaldyr" has been featured in the latest trailer for the upcoming Robert Eggers film, 'The Northman!' The epic trailer that features the song can been seen at THIS LOCATION!
Track-list:
1. Asja (5:17) [LISTEN]
2. Anoana (4:57) [WATCH]
3. Tenet (13:05) [LISTEN]
4. Urbani (2:55)
5. Keltentrauer (8:26)
6. Nesso (7:54)
7. Buslas Bann (5:03)
8. Nikkal (3:04)
9. Marduk (8:34)
Total: 59:15
Following the enormous success of HEILUNG's sold out appearance at the historic Red Rocks venue in Denver, CO in October 2021, the enigmatic world music collective will be returning to North America later this year! The first ceremony will take place on the evening of August 26 in Atlanta, GA and the final curtain will draw on October 1 in Dallas, TX. Tickets are on sale HERE. The full run of dates can be found below. For each ticket purchased, a tree will be planted.
HEILUNG's ritual is neither a performance nor a concert; it is a fully immersive ceremony that connects its listeners with the elements of nature through music, dance, and mysticism. For a glimpse of what to expect at an evening with HEILUNG, watch 'LIFA,' which was recorded live at Castlefest 2017, HERE. 
HEILUNG will be supporting their 2019 release, 'Futha,' which debuted at #3 on the Billboard Heatseeker charts and #4 on the Billboard World Music Charts, placing on a total of seven Billboard charts within the first week of its release.
HEILUNG Summer Festivals 2022
19 Aug 22 Borre (NO) Midgardsblot 2022
HEILUNG North America 2022:
08/26/22: Atlanta, GA @ Cobb Energy Center [TICKETS]
08/28/22: Asheville, NC @ Thomas Wolfe Auditorium [TICKETS]
08/30/22: Pittsburgh, PA @ Stage AE [TICKETS]
09/01/22: Toronto, ON @ Meridian Hall [TICKETS]
09/03/22: Montréal, QC @ MTELUS [TICKETS]
09/06/22: New York, NY @ The King's Theatre [TICKETS] **New Venue**
09/08/22: Worcester, MA @ The Palladium [TICKETS]
09/10/22: Detroit, MI @ Masonic Temple Theatre [TICKETS]
09/13/22: Chicago, IL @ Radius [TICKETS]
09/15/22: St. Paul, MN @ Myth Live [TICKETS]
09/20/22: Seattle, OR @ The Paramount Theatre [TICKETS]
09/22/22: Portland, OR @ Keller Auditorium [TICKETS]
09/24/22: San Francisco, CA @ The Warfield [TICKETS]
09/27/22: Los Angeles, CA @ Greek Theatre [TICKETS]
09/29/22: Phoenix, AZ @ Orpheum Theatre [TICKETS]
10/01/22: Dallas, TX @ The Factory in Deep Ellum [TICKETS]
HEILUNG European Tour 2022
26 Oct 22 Copenhagen (DK) Forum Black Box
28 Oct 22 Stockholm (SE) Annexet
30 Oct 22 Helsinki (FI) Black Box
04 Nov 22 Prague (CZ) Forum Karlin
06 Nov 22 Leipzig (DE) Haus Auensee
08 Nov 22 Zurich (CH) Halle 662
11 Nov 22 Brussels (BE) Cirque Royal
13 Nov 22 Berlin (DE) Tempodrom
16 Nov 22 Bochum (DE) Ruhrcongress
18 Nov 22 Paris (FR) L'Olympia
02 Dec 22 Budapest (HU) Barba Negra
05 Dec 22 Ljubljana (SI) Hala Tivoli
07 Dec 22 Frankfurt (DE) Jahrhundert Halle
14 Dec 22 Stuttgart (DE) Liederhalle Hegelsaal
18 Dec 22 Munchen (DE) Zenith
HEILUNG Tour 2023
08 Jan 23 Rouen (FR) Le 106
10 Jan 23 Metz (FR) La Bam
12 Jan 23 Tilburg (NL) 013
14 Jan 23 London (UK) O2 Academy Brixton
17 Jan 23 Manchester (UK) Bridgewater Hall
19 Jan 23 Dublin (IE) National Stadium
22 Jan 23 Glasgow (UK) Barrowland