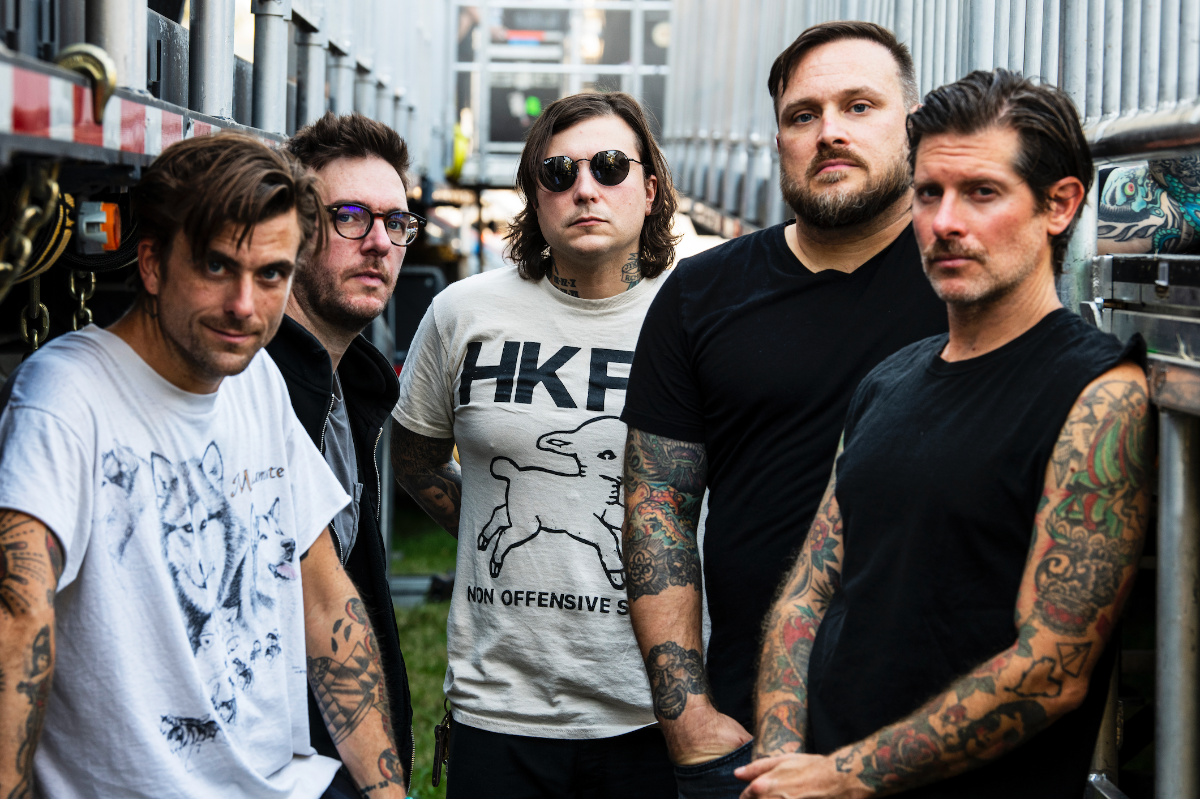 L.S. Dunes — guitarist Frank Iero (My Chemical Romance), guitarist Travis Stever (Coheed & Cambria), vocalist Anthony Green (Circa Survive), bassist Tim Payne (Thursday), and drummer Tucker Rule (Thursday) — have shared "Bombsquad," an explosive new track from their upcoming debut album, PAST LIVES, due November 11 via Fantasy Records. Pre-order it here.
Listen to "Bombsquad" here.
The band also released a blazing live performance video for the track. Watch "Bombsquad: Live at Dreamland" here.
"The lyrics for 'Bombsquad' came from a poem that I wrote around the time of the January 6 insurrection," says Green. "In the midst of the pandemic, people were trying to take down the government because a ConMan politician couldn't admit that he had lost the election, not for any legitimate grievance or protest. The song is a rage against society's depressing and destructive forces."
 
The performance clip "Bombsquad – Live at Dreamland" was recorded at Dreamland Studios in Woodstock, NY, where some of the band's favorite ever records (from Sunny Day Real Estate to The National to The Hold Steady) were created. L.S. Dunes channeled the power of the former church's iconostasis into spiritual osmosis via the song's "Leora" refrain in the chorus.
 
Green elaborates, "'Leora' is an age-old word meaning 'of the light' or 'compassion,' which I think is something we need to call and reflect on for growth and unity."
"Bombsquad" follows the band's previously released tracks, "2022″ and "Permanent Rebellion," which have drawn praise from Stereogum, NME, Consequence, Ones to Watch, Brooklyn Vegan, Revolver, Alternative Press, and Loudwire, among many others.

L.S. Dunes made their highly anticipated debut performances at Chicago's RIOT FEST on September 15 and Sacramento's AFTERSHOCK FESTIVAL on October 8. Both dates featured songs from the new album, a taste of the energetic, cathartic shows fans will experience on their upcoming headlining U.S. tour which begins November 12.
Louder Sound singled out their set an AFTERSHOCK highlight, adding, "There's no pretension or theatrics — they're just cool." Find the complete tour itinerary, including recently announced first-ever European shows here and below. In addition, the band will celebrate the release of Past Lives with a special, release day in-store performance at Fingerprints Music in Long Beach, CA. Go here for more information. 
L.S. DUNES ON TOUR:
11/12 — Garden Grove, CA — Garden Ampitheater
11/13 — San Francisco, CA — Bimbo's 365
11/14 — Los Angeles, CA — Troubadour (SOLD OUT)
11/18 — Mexico City, Mexico — Corona Capital (SOLD OUT)
11/22 — Toronto, Ontario — Velvet Underground (SOLD OUT)
11/25 — Asbury Park, NJ — Lanes (SOLD OUT)
11/26 — Philadelphia, PA — First Unitarian Church (SOLD OUT)
11/27 — Boston, MA — The Sinclair (SOLD OUT)
11/29 — Brooklyn, NY — Music Hall of Williamsburg (SOLD OUT)
11/30 — Baltimore, MD — Ottobar (SOLD OUT)
1/27 — Glasgow, UK — The Garage
1/28 — Camden, UK — Electric Ballroom
1/29 — Manchester, UK — Manchester Academy (SOLD OUT)
1/30 — Birmingham, UK — 02 Academy Birmingham
Follow LS Dunes:
Website | Facebook | Twitter | Instagram | Youtube