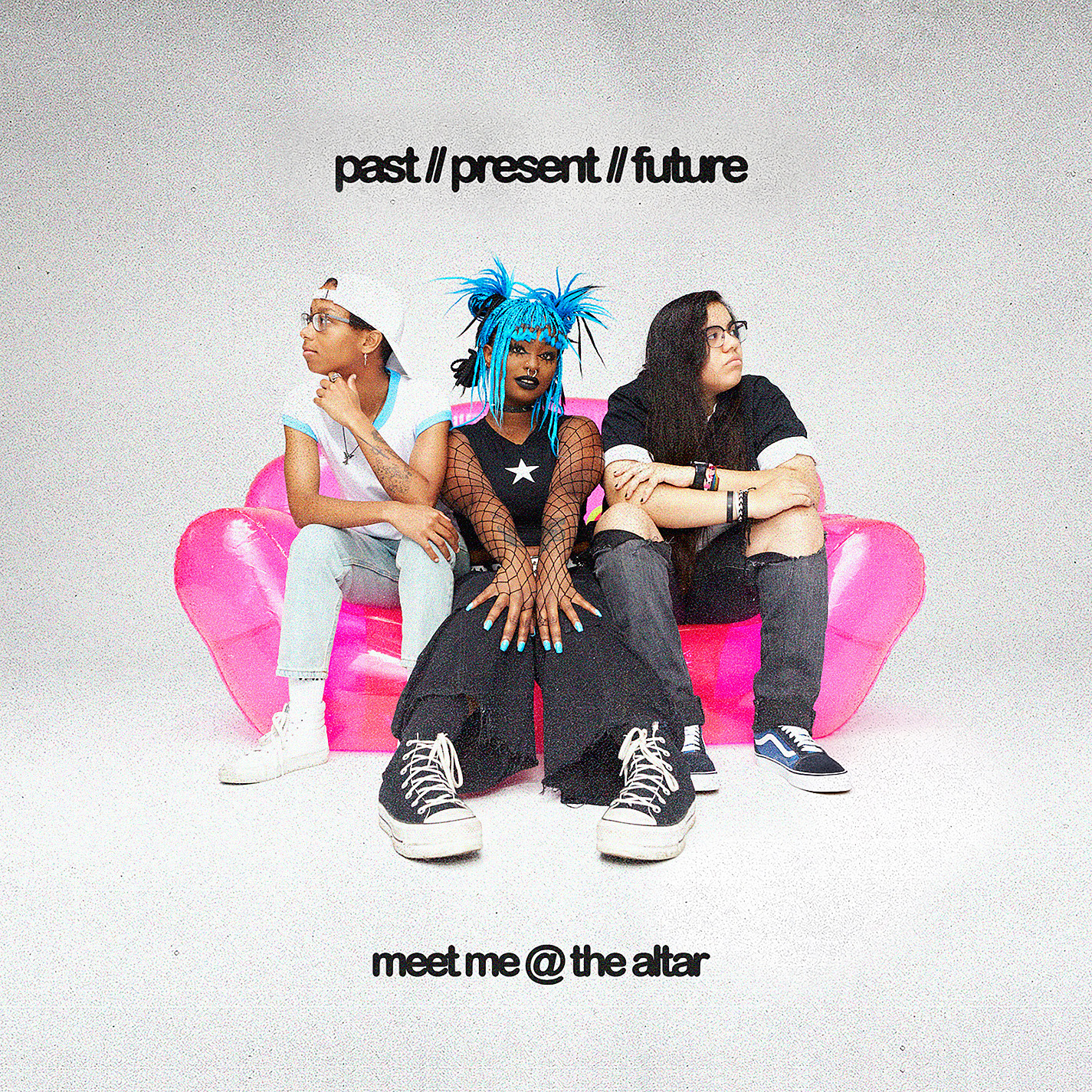 From meeting on YouTube to being the backdrop of a Taco Bell commercial, Meet Me @ The Altar's skyrocketing popularity isn't without its detractors. The terminally-online crowd gets called out in the band's opening track "Say It (To My Face)" on their long-awaited debut LP, Past // Present // Future. Playing in Hot Topics nationwide and nabbing a deal with the iconic Fueled by Ramen in 2020, the in-your-face pop-punk queens have made waves with multiple EPs, but Past // Present // Future aims to make the group a household name.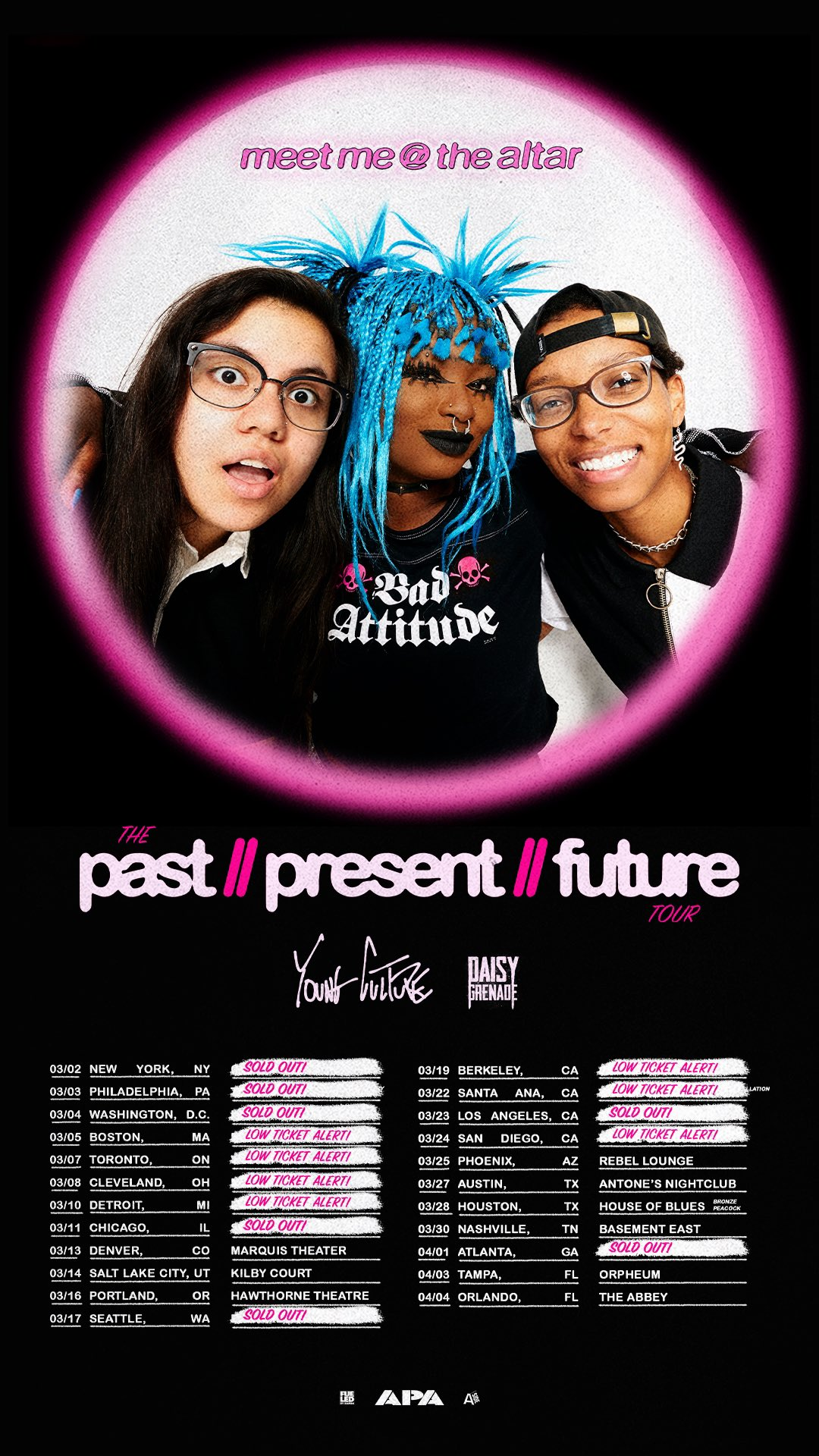 Originally teased on Twitter months ago, next up on Past // Present // Future is "Try", packing in the nostalgia of Sonic Adventure 2's "City Escape" with MM@TA's masterful hold of upbeat, eclectic pop-punk. It's even more clear in single "Kool"'s infectious hook that the choruses on this record are fine-tuned to stick in the listener's head for eons. Production is no slouch, either – expect harmonies to shine and lots of layering within Past // Present // Future, guaranteeing you're glued to the song from start to finish. 
As Meet Me @ The Altar are a three-piece, vocalist Edith Victoria, guitarist/bassist Téa Campbell, and drummer Ada Juarez all see plenty of spotlight; despite the genre being more vocal-focused, it's worth listening for a clever guitar riff from Téa or a drum fill from Ada. While MM@TA typically utilized more double-bass and had a punchier sound in previous EPs leaning towards an easycore sound, the group has eased into very radio-friendly (but still catchy as can be) songwriting within Past // Present // Future. Where one could headbang to EP Model Citizen, expect to sing along and dance to slower songs on this LP, like "A Few Tomorrows". 
Inspiration is drawn from several genre staples on Past // Present // Future, as Meet Me @ The Altar channel everything from Avril Lavigne to All American Rejects on the climactic "Need Me" and the blistering "It's Over For Me". Variety is bursting between each track, making it hard to classify anything on here as "filler". Instead of opting for the easy earworm copy-and-paste formula, the experimentation throughout Past // Present // Future is what makes it a smooth 30-minute listen – the perfect length for the target demographic and a strong helping of tunes for those ready for a deep dive. 
It was bold to place the leading single as the first track, but Meet Me @ The Altar ensured the rest of Past // Present // Future is worth delving through. While the non-singles don't hit quite as hard as "Say It (To My Face)" and "Kool", it's still a huge testament for the young band's future to start this strong with one of the largest labels in the scene. Any form of pop-punk fan is going to find something to like here (I'm impartial to "Try" flashing me back to my childhood just discovering pop-punk at an impressionable age). Whether you saw the band on The Late Show with Steven Colbert, grew up with Green Day, or have a fleeting interest in alt music, give Meet Me @ The Altar's debut Past // Present // Future a spin at this early juncture before they take over.
Rating: 8/10
Follow Meet Me @ The Altar on Twitter, Facebook, Instagram, and TikTok