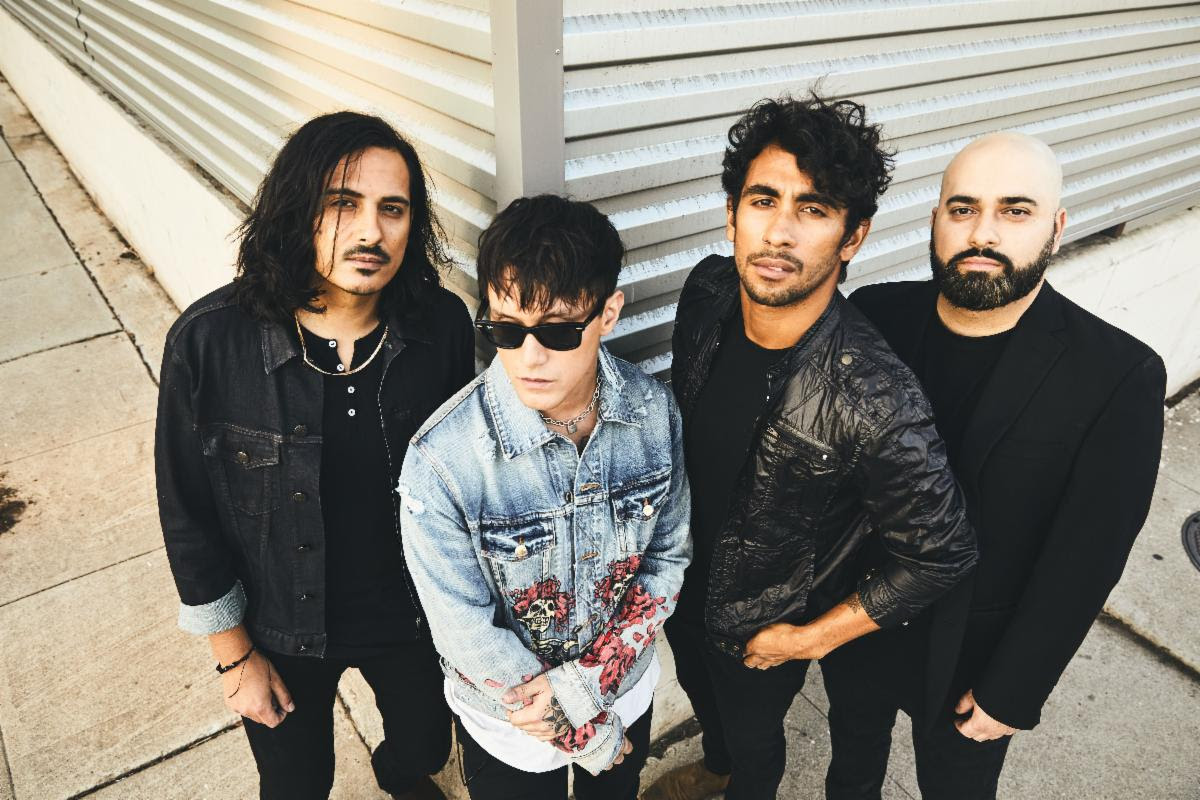 New Jersey powerhouse Palisades have today released their latest single "Reaching Hypercritical" and the accompanying visualizer. The single is the title track from the band's forthcoming album 'Reaching Hypercritical' out on July 22 via Rise Records. Speaking on today's release, vocalist Brandon Elgar shares:
"'Reaching Hypercritical' is based around my experience with therapy. I learned that I, and other people who struggle with anxiety, have an "inner bear" inside of us that can sometimes trap us into submission and can keep us from going out into the world and living the best we can. My therapist also told me I have a "hypercritical" thought process. Which means I'm unreasonably critical of myself over the smallest things. We are all our worst critics. This song is just about my brain and how dangerous it can be to me sometimes. "
Palisades most recently released "Better", which speaks to themes of mental health, including frontman Brandon Elgar's experiences with agoraphobia, chronic anxiety, depression, and dissociative disorders (check out Brandon's video diary here). "My Consequences" was the first drop from 'Reaching Hypercritical', and both previous releases together have amassed over 1.1 million streams on Spotify alone and 583,000 views on YouTube. Watch the visualizer for "Reaching Hypercritical" here or at the link below, stream the track here, and be sure to stay tuned for more Palisades news coming soon.
REACHING HYPERCRITICAL
Track Listing:
1. My Consequences
2. Reaching Hypercritical
3. Invincible (Die Down)
4. Your Misery
5. Without You
6. Better
7. Fray
8. Sick Of The Attitude
9. Fade Away
10. Sober
11. Closure
Fans also have the chance to see the band hit the stage starting next month. For ticket information, please click here.
Palisades Spring Tour Dates
May 20 – Mechanicsburg, PA @ Lovedraft's Brewing Co
May 21 – Albany, NY @ Empire Underground
May 22 – Baltimore, MD @ The Ottobar
May 27 – Dallas, TX @ So What?! Music Festival
May 31 – Detroit, MI @ The Sanctuary
June 1 – Pittsburgh, PA @ Hard Rock Cafe – Pittsburgh
June 2 – Philadelphia, PA @ MilkBoy
June 3 – Asbury Park, NJ @ House of Independents
Often lost in the past two years of the coronavirus pandemic aware of the nuances that 'normal' life brings. Trials, traumas, loves, and losses were all still present, even if ignored. 
This is something that New Jersey rock outfit Palisades are all too familiar with, the band – vocalist/bassist Brandon Elgar, guitarists Xavier Adames and Matthew Marshall, and drummer Aaron Rosa – having been forced to contend with everything from line-up changes to the death of loved ones, all the while trying to record a new album amidst the most uncertain period the music industry has ever faced.
Their efforts and struggles have not been in vain. Palisades' superb new album, Reaching Hypercritical, is due for release on Friday, July 2022 via their long-time home Rise Records. The band – whose worldwide streams now approaching 300 million – broke the Billboard 200 with their last LP, 2018's Erase the Pain, while also scoring the #1 Independent, Top New Artist and Alternative New Artist album. With their strongest and most ambitious record yet now ready for the world, Palisades look set to further build upon their past efforts and appearances at festivals including Louder Than Life, Reading and Leeds, Download and Rock am Ring by reinforcing their status as one of rock's most necessarily innovative and purposeful artists.
"It's a been a pretty drastic progression musically," drummer Aaron Rosa notes of Reaching Hypercritical. "This album really captures how the band has matured while being brutally honest with ourselves about all the tough moments that were going through our heads while making the record. Reaching Hypercritical is a true demonstration of how the past few years have changed us as people, as a band and what Palisades' music stands for."
Some of that change derives from the band's recent line-up shift, which saw frontman Lou Miceli exit and vocalist/bassist Brandon Elgar step up on sole vocals. The move has allowed Palisades to hone in on their new frontman's passion, swagger, and raw talent, whose cathartic presence is the perfect muse for their emotive songs.
"The sheer talent and unique style Brandon brings to being a frontman really elevates our music," guitarist Matthew Marshall comments. "His melodies, lyrics and his flair makes all of us continue to push ourselves and that was ideal for what we wanted to achieve with Reaching Hypercritical. A new beginning for Palisades."
While the atmosphere within the band is currently one of excitement and promise, the rocky path Palisades has had to traverse in order to create Reaching Hypercritical is reflected in the solemn, introspective, and often very dark outlook of the music. Mental illness and divorce are two heavy topics that rear their head on the record, while Aaron took the opportunity on Reaching Hypercritical to open up about the death of his father, who passed away during the writing of Palisades' new LP.
"In terms of both our mental health and our career, it very much felt like we were reaching a hypercritical point," he says of the band's recent experiences. "You have all of the uncertainty that was brought on by a pandemic while life continues to do what it does. My father was diagnosed with stage four pancreatic cancer and died two months later. It was the hardest thing I've ever had to deal with, and in the middle of that, we were still trying to write a record. That moment in my life and some of the traumatic experiences of the other guys in the band really shaped this record. Ultimately, it altered the entire tone of the record and truly what the songs meant."
From the raw emotion of "Fray" – which features a heart-breaking voice message from Aaron's father – to the anthemic modern rock punch of the album's first single "Better," Reaching Hypercritical is doused in passion, intensity, and ambition. It's the kind of record whose songs belong on the biggest platforms, as massive choruses collide with the kind of lyrical honesty and intelligence that will connect with anyone who's experienced loss and pain. 
From the depths of despair, Palisades have not only emerged with Reaching Hypercritical, but they have also done so triumphantly. For Brandon, Xavier, Matthew, and Aaron, it's now about sharing that victory with others who need dragging out of the mire.
"I just want to be able to show people that no matter how deep of a hole you're in that there's always a way to crawl out," Brandon says. "With everything we went through, we didn't know what was going to happen or if this band would even continue for us, but we stuck together and overcame these obstacles together. The goal of Reaching Hypercritical, more than anything, is to show people that they can do that too."