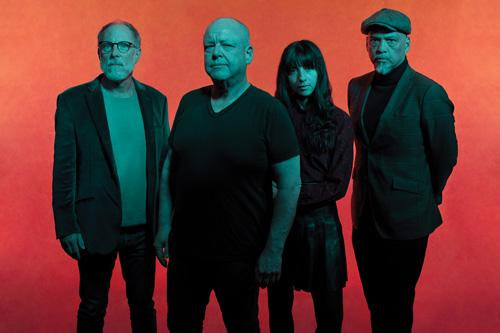 Today, alt-rock icons Pixies announce the addition of Leg Two for its 2023 North American concert tour. With many dates on Leg One already sold out, Leg Two launches on June 8 and will see the band headlining in venues from Boston to Ohio to Texas, as well as making a special appearance at Bonnaroo on June 18. Also announced, the Scottish rock band Franz Ferdinand, and American indie rockers Bully will be Special Guests on all Pixies' Leg Two headline dates. Confirmed shows for Legs One and Two are below; tickets for Leg Two go on sale Friday, February 3 at https://pixies.ffm.to/live.OPR; remaining tickets for Leg One dates are currently on sale at https://pixies.ffm.to/live.OPR 
All North American dates are in support of Pixies' latest album, Doggerel (BMG), and are part of the band's 2022-2023 World Tour that launched last Spring and has seen the band playing to sold-out headline shows throughout the UK, Europe, South America, Japan, New Zealand and Australia.
As Pixies rehearse 90-100 songs before every tour, there are no predetermined set lists for any of the concerts, the band will play what they want when they want, and each "next" song is determined just before its first note is played. Consequently, every Pixies show is different. 
In his review of Pixies' Edinburgh show last August, David Pollock from The Scotsman wrote, "Grimy, relentless and effortlessly tuneful, this was some show from the Pixies, packing no fewer than 37 songs into a two-hour set. This was Maximum Pixies… a 'Now That's What I Call a Pixies set,' which condensed more than 35 years of history into one bullet-sized dose." And from NME's Sam Moore at Spain's Mad Cool Festival, "Things you expect to see at your average Pixies gig: hit after hit after hit. 'Gouge Away'? Check. 'Wave Of Mutilation'? Of course! 'Caribou'? Naturally. No banter – just bangers. — You want more? Don't worry: Black Francis and Co. have got you, with 'Hey', 'Tame', 'Monkey Gone To Heaven' and 'Vamos.'" Chris Schulz with the New Zealand Herald wrote, "Pixies' Sydney Opera House show is a rambunctious, confrontational blast from the past. 'Bone Machine,' 'Debaser,' 'Gouge Away,' 'Here Comes Your Man,' and 'Where Is My Mind?' All get wickedly delicious outings, bringing the crowd to their feet and dancing and singing along in unison. No opening act, just two hours and 31 songs of pure Pixies, who proved they're still as weird and wonderfully bonkers as their fans. That standing ovation lasted for minutes – and they deserved every second of it." 
Confirmed dates for Pixies' North American tour are as follows:
LEG ONE:
MAY 2023
 4 Fox Theater, Oakland, CA
 6 Golden State Theatre, Monterey, CA
 8 The Van Buren, Phoenix, AZ
 9 Lensic Performing Arts Center, Santa Fe, NM
10 The Mission Ballroom, Denver, CO
12 Encore Theatre at Wynn, Las Vegas, NV
13 Encore Theatre at Wynn, Las Vegas, NV
12-14  Kilby Block Party, Utah State Park, Salt Lake City, UT (Festival)
LEG TWO:
JUNE 2023
 8 MGM Music Hall at Fenway, Boston, MA
 9 The Met, Philadelphia, PA
10 The Anthem, Washington, D.C.
12 Kemba Live!, Columbus, OH
13 Stage AE, Pittsburgh, PA
14 Andrew J. Brady Music Center, Cincinnati, OH
16 Red Hat Amphitheater, Raleigh, NC
17 Rabbit Rabbit, Asheville, NC
18 Bonnaroo, Manchester, TN
20 Coca-Coca Roxy, Atlanta, GA
21 The Fillmore, New Orleans, LA
23 Bayou Music Center, Houston, TX
24 Southside Ballroom, Dallas, TX
25 Moody Amphitheater, Austin, TX