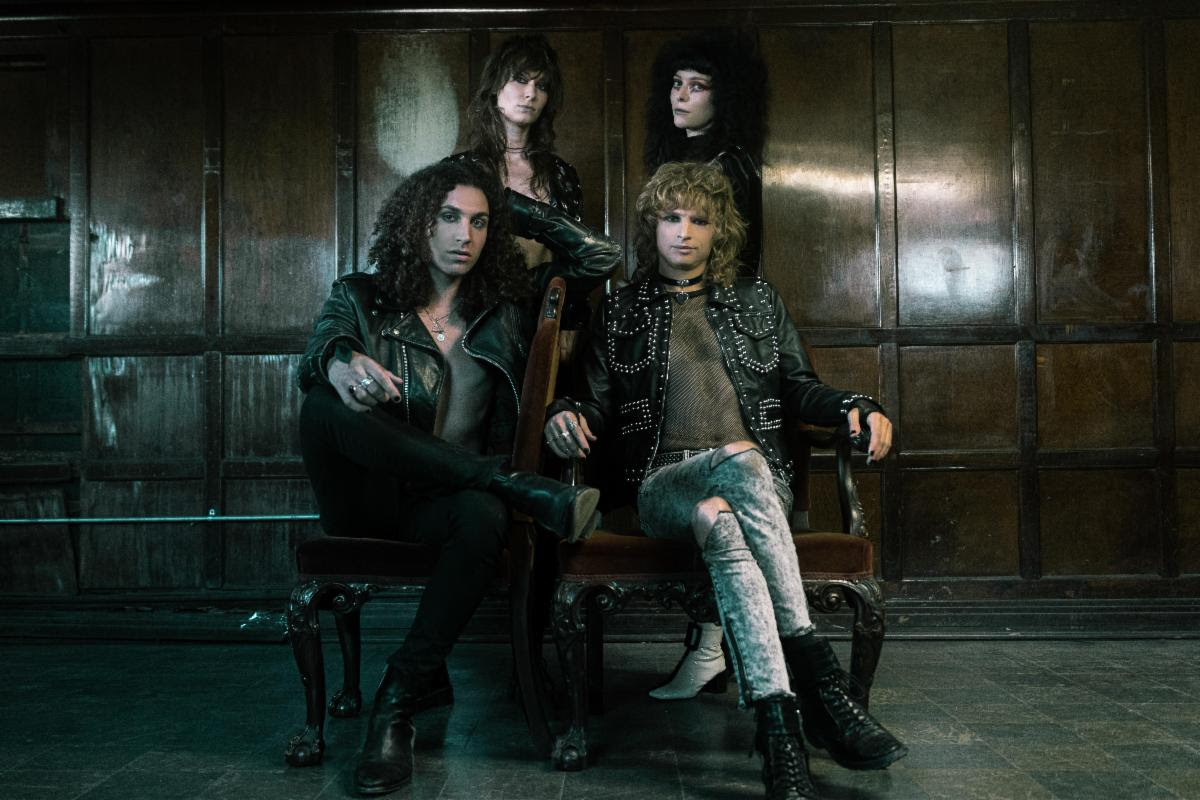 Atlanta-based glam punk rockers Starbenders have today dropped a new single and music video for "Blood Moon" (out via Sumerian Records). Speaking on today's release, the band shares:
"It's been feeling like everything is crumbling around us as we seem to be hurtling toward an apocalyptic destiny. At some point, you come to the understanding that things have been this way since recorded history. Now we've been down for so long that it's beginning to look like up. Instead of succumbing to frustration and rage, we decided to become one with the chaos and make some noise. Blood Moon is our catharsis."
Watch the music video for "Blood Moon" here or at the link below, and be sure to watch this space for more Starbenders news coming soon.
Fans can see Starbenders on the road with Palaye Royale on their Fever Dream North American Tour starting today in Tempe, AZ. The band has also announced a slew of new tour dates in Japan as well. For ticket information, please click here.
Fever Dream North American Tour Dates
September 13 – Tempe, AZ @ Marquee Theatre
September 15 – San Antonio, TX @ Tobin Center for the Performing Arts
September 16 – Dallas, TX @ Southside Music Hall
September 17 – Houston, TX @ Warehouse Live
September 19 – Tampa, FL @ The Ritz Ybor
September 21 – Atlanta, GA @ Buckhead Theatre
September 23 – Boston, MA @ House Of Blues Boston
September 24 – Philadelphia, PA @ Theatre of Living Arts
September 25 – New York, NY @ Webster Hall
September 27 – Nashville, TN @ Wildhorse Saloon
September 28 – Newport, KY @ MegaCorp Pavilion
September 29 – Columbus, OH @ KEMBA Live!
September 30 – Toronto, CA @ HISTORY
October 1 – Detroit, MI @ Saint Andrews Hall
October 3 – Minneapolis, MN @ First Avenue
October 4 – Chicago, IL @ House of Blues Chicago
October 6 – Milwaukee, WI @ The Rave/Eagles Club
October 7 – Omaha, NE @ The Admiral Theater
October 8 – Denver, CO @ Summit Music Hall
October 11 – Seattle, WA @ Showbox SoDo
October 12 – Portland, OR @ Roseland Theater
October 15 – Reno, NV @ Cargo Concert Hall
October 17 – Sacramento, CA @ Ace Of Spades
October 18 – San Francisco, CA @ The Fillmore
November 6 – Los Angeles, CA @ Hollywood Palladium
Japan Tour Dates
November 19 – Tokyo, JPN @ Womb
November 20 – Tokyo, JPN @ Womb
November 21 – Kyoto, JPN @ Takutaku
November 22 – Kyoto, JPN @ Takutaku
November 23 – Setagaya City, JPN @ CLUB Que Simokitazawa
November 27 – Setagaya City, JPN @ CLUB Que Simokitazawa
November 28 – Nagoya, JPN @ SPADE BOX
November 29 – Kyoto, JPN @ Jujutsu
November 30 – Kyoto, JPN @ Jujutsu
Decemmber 1 – Shinjuku, JPN @ Loft
December 3 – Setagaya City, JPN @ CLUB Que Simokitazawa
December 4 – Tokyo, JPN @ Womb
December 5 – Shibuya City, JPN @ WWW
Atlanta alt-glam band Starbenders will release their hotly anticipated single, "Blood Moon", on September 13 through Sumerian Records, fresh on the heels of 2020's Love Potion studio album and serving as the follow-up to 2019's Japanese Rooms EP. These are words similar to those which you will read on countless press releases, but there really isn't anyone else out there doing what Starbenders have been doing since forming in 2014: The intoxicating combination of '70s glitter and '80s glam with new wave and new romantic, seduced into this new decade by four thrilling musicians and, in frontwoman Kimi Shelter, one of the most exciting songwriters in contemporary rock & roll.
Follow Starbenders:
Website | Facebook | Twitter | Instagram