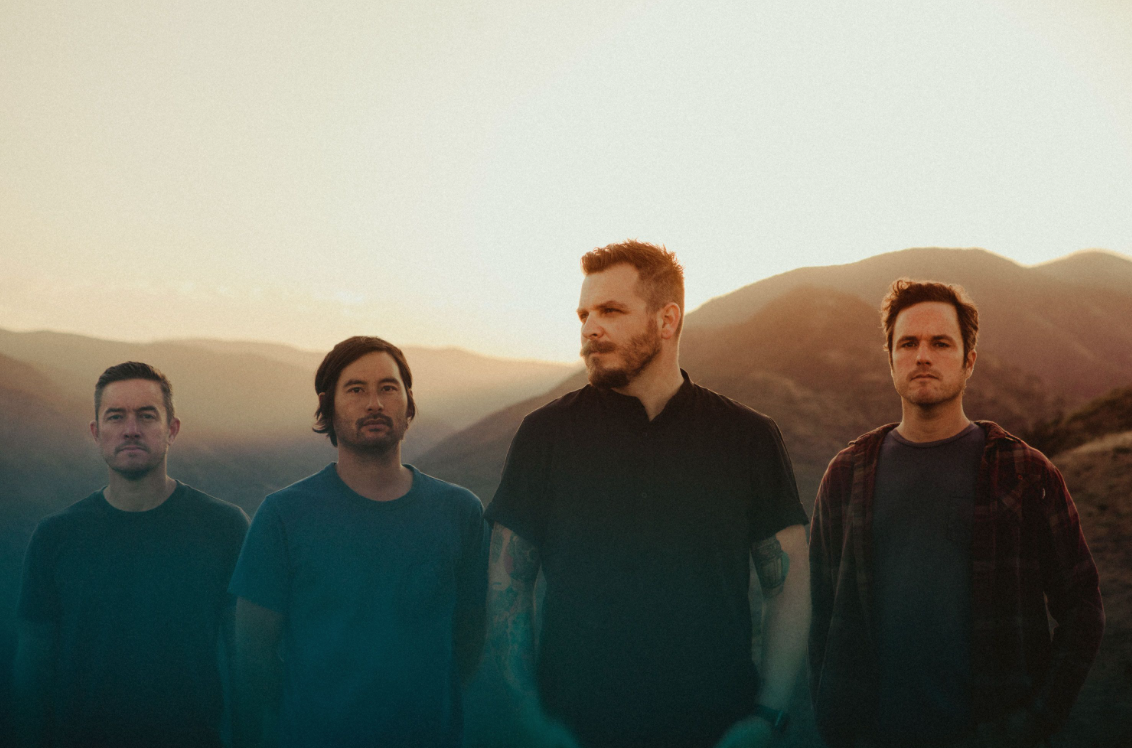 Following a successful run of shows in December and preparing to celebrate 25 years of being a band, California rock band Thrice just shared a brand-new, re-recorded version of The Artist In The Ambulance. The album revisits all twelve original tracks, featuring guest vocals from Ryan Osterman (Holy Fawn), Chuck Ragan (Hot Water Music), Sam Carter (Architects), Mike Minnick (Curl Up And Die), Brian McTernan (Be Well), and Andy Hull.
Fans can stream The Artist In The Ambulance – Revisited and pre-order limited edition vinyl now at https://lnk.to/THRICEambulance
The Artist In The Ambulance – Revisited Tracklist
1. Cold Cash And Cold Hearts
2. Under A Killing Moon (feat. Sam Carter)
3. All That's Left
4. Silhouette
5. Stare At The Sun (feat. Andy Hull)
6. Paper Tigers (feat. Ryan Osterman)
7. Hoods On Peregrine (feat. Brian McTernan)
8. The Melting Point Of Wax
9. Blood Clots And Black Holes (feat. Chuck Ragan)
10. The Artist In The Ambulance
11. The Abolition Of Man (feat. Mike Minnick)
12. Don't Tell And We Won't Ask
"The question has to be asked: Why would we re-record a 20 year old album, let alone one that is widely beloved and arguably our most well-known. I think the core of the answer is that it simply sounded fun and we were curious," shares Kensrue. "We know that playing the revisionist is a dangerous game, so we were always a little uneasy about trying to go back and mess with something that people loved, people who had none of the hangups about the record that we did. But, since we decided to do this anyway, we tried to let that wariness guide us in how we approached the record, and in the end we decided to make very minimal structural changes."
Released in 2003, The Artist In The Ambulance remains one of the most influential albums in the genre. Featuring tracks like "The Artist In The Ambulance," "All That's Left," "Stare At The Sun" and more, the album peaked at number 1 and number 16 on the Billboard US Top Internet Albums and Billboard 200 chart respectively. "All That's Left" peaked at number 24 on Alternative Airplay, number 36 on Mainstream Rock Airplay and number 37 on Active Rock, and "Stare at the Sun" peaked at number 39 on Alternative Airplay. More recently, The Artist In The Ambulance was named by NME as one of the 20 emo albums that have stood the test of time, and Rock Sound ranked it number 25 on their list of modern classics.
"At the end of the day, what we wanted the record to sound like for fans is that somehow one of their old favorite records got a new lease on life, but that it hadn't lost its soul or turned into something else. We hope you enjoy revisiting The Artist In the Ambulance."
Thrice also announced their upcoming tour in celebration of the 20th anniversary of The Artist In The Ambulance. The tour kicks off on May 18 in San Diego, CA, and will be visiting cities throughout the United States, playing The Artist In The Ambulance in its entirety, with special guest Holy Fawn. Pre-sale tickets are available now at https://thrice.net/. All additional tickets go on sale Friday, February 3 at 12pm ET on www.thrice.net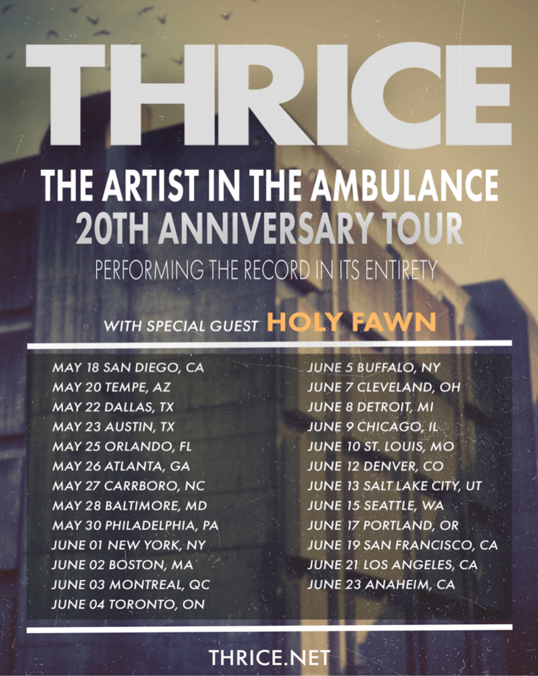 On the upcoming tour, Thrice vocalist Dustin Kensrue shares, "The Artist in the Ambulance has played such a huge part in the history of the band. These songs have stood the test of time better than we could have known when we wrote them. But they've also subtly shifted and grown with us as we've played them at shows over the last 20 years, which is why it was so much fun to revisit them in the studio, and also why we are so excited to play the whole record live, especially for the first time in its entirety."
The Artist In The Ambulance 20th Anniversary Tour Dates
May 18 – San Diego, CA – The Observatory North Park
May 20 – Tempe, AZ – Marquee Theatre
May 22 – Dallas, TX – The Echo Lounge & Music Hall
May 23 – Austin, TX – Emo's Austin
May 25 – Orlando, FL – House Of Blues
May 26 – Atlanta, GA – The Masquerade – Heaven
May 27 – Carrboro, NC – Cat's Cradle
May 28 – Baltimore, MD – Rams Head Live!
May 30 – Philadelphia, PA – Theatre of The Living Arts
June 1 – New York, NY – Brooklyn Steel
June 2 – Boston, MA – House Of Blues
June 3 – Montreal, QC – Corona Theatre
June 4 – Toronto, ON – Phoenix Concert Theatre
June 5 – Buffalo, NY – Town Ballroom
June 7 – Cleveland, OH – House Of Blues
June 8 – Detroit, MI – Crofoot Ballroom
June 9 – Chicago, IL – House Of Blues
June 10 – St. Louis, MO – Red Flag
June 12 – Denver, CO – Summit
June 13 – Salt Lake City, UT – Union Event Center
June 15 – Seattle, WA – The Showbox
June 17 – Portland, OR – Roseland Theater
June 19 – San Francisco, CA – Regency Ballroom
June 21 – Los Angeles, CA – The Wiltern
June 23 – Anaheim, CA – House Of Blues