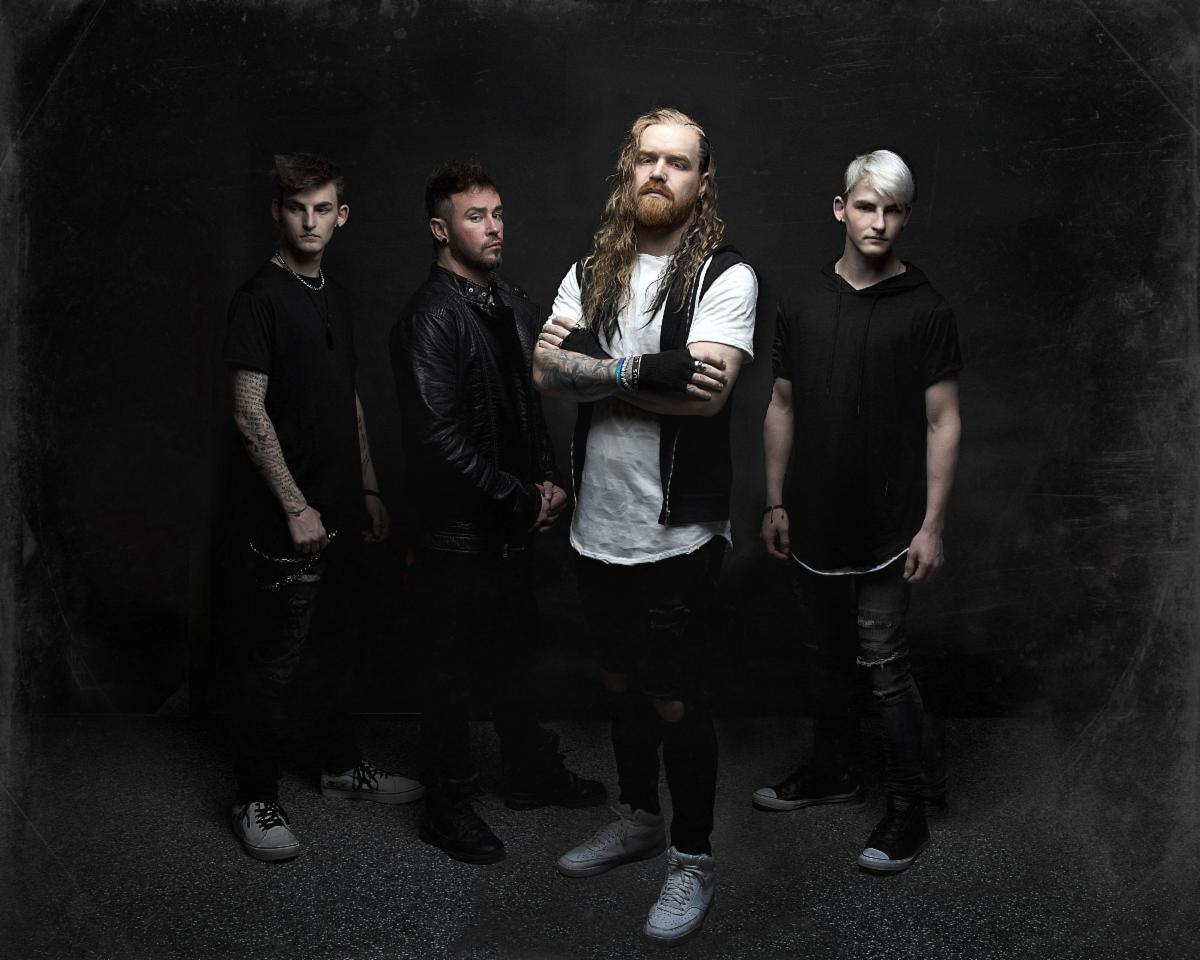 Omaha-based rock quartet Through Fire have today unleashed their latest offering "Devolution" plus the accompanying visualizer. The track can be found on the band's forthcoming new album 'Devil's Got You Dreamin' out Friday, April 21 via Sumerian Records. Speaking on the song, Through Fire commented:
"Devolve, destruct, in God we trust… so many things in the world seem to be going in reverse. One step forward and two steps back. This song is about keeping our eyes open to everything going on around us."
Prior to today, the band released "Lose It" and "Karma Kills" which together have amassed 320,000 streams and counting on Spotify. Stream "Devolution" here, watch the visualizer here or at the thumbnail below, and pre-order 'Devil's Got You Dreamin' here.
DEVIL'S GOT YOU DREAMIN'
Through Fire
Track Listing:
1. Karma Kills
2. Dead Winter
3. Wake Up
4. Lose It
5. Heal Your Wounds
6. For The Last Time
7. Prevail
8. Over The Influence
9. Devolution
10. Blindsided
11. Straightjacket
12. Satellites
13. The Road
Through Fire have a solid tour schedule ahead kicking off with Saliva and Any Given Sin this week. The quartet will next hit the road alongside Ill Niño and Dropout Kings in May. For ticket information, please click here.
Through Fire Upcoming Tour Dates
With Saliva + Any Given Sin
3/17 – Amelia Island, FL @ Saddler Ranch
3/18 – Orlando, FL @ The Beacham Theatre
3/20 – Nashville, TN @ Brooklyn Bowl
3/21 – Pittsburgh, PA @ Jergel's
3/23 – Ft. Wayne, IN @ Piere's
3/24 – Wyandotte, MI @ District 142
3/25 – Joliet, IL @ The Forge
3/26 – McHenry, IL @ The Vixen
3/27 – Des Moines, IA @ Wooly's
3/29 – Colorado Springs, CO @ Sunshine Studios
3/30 – Ft. Collins, CO @ The Coast
4/2 – Phoenix, AZ @ Marquee Theatre
4/5 – Oklahoma City, OK @ Beer City Music Hall
With Ill Niño + Dropout Kings
5/4 – Jacksonville, NC - Hooligans
5/5 – Winchester, VA - Blue Fox Billiards
5/6 – Sayreville, NJ - Starland Ballroom
5/7 – Horseheads, NY - The L
5/9 – Mechanicsburg, PA – Lovedrafts
5/10 – Pittsburgh, PA - Crafthouse
5/11 – Lakewood, OH - Winchester Tavern
5/12 – Flint, MI - Machine Shop
5/13 – Angola, IN - Eclectic Room
5/14 – Joliet, IL - The Forge
5/16 – Bloomington, IL
5/17 – Belvidere, IL - The Apollo Theater
5/18 – Omaha, NE - Waiting Room
5/19 – Sioux Falls, SD - Bigs Bar
5/20 – Billings, MT - Pub Station
5/21 – Great Falls, MT - The Newberry
5/23 – Denver, CO – Marquis Theater
5/24 – Colorado Springs, CO - Sunshine Studios
5/25 – Grand Junction, CO - Mesa Theater
5/26 – Phoenix, AZ - Rebel Lounge
5/27 – El Paso, TX – Rockhouse
5/30 – Lubbock, TX - Jakes
5/31 – Corpus Christi, TX - House Of Rock
6/1 – Houston, TX - Warehouse Live
6/2 – San Antonio, TX - The Rock Box
6/3 – Fort Worth, TX - Rail Club
6/4 – Tyler, TX - Country River Club
Follow Through Fire:
Website | Facebook | Twitter | Instagram