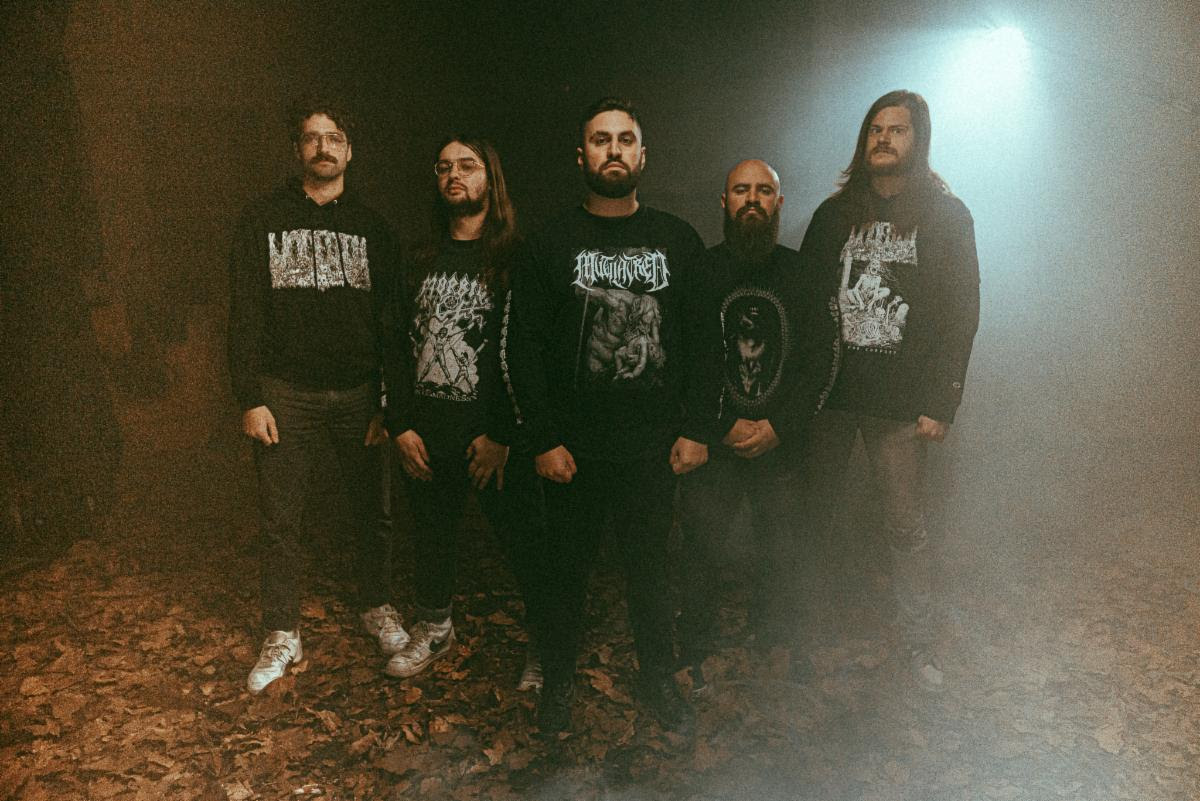 Undeath has announced details of their sophomore album, It's Time… To Rise From The Grave. The first track to be released from the album, "Rise From The Grave" – which was premiered earlier this week via SiriusXM Liquid Metal – is streaming everywhere now and the accompanying video will premiere at THIS LOCATION at 7AM PST//10AM EST//4PM CET. It's Time… To Rise From The Grave will be released via Prosthetic Records on April 22nd, 2022. Pre-orders are available now.
The suitably disgusting video was produced by Errick Easterday and provides the visual accompaniment to the blistering first single, "Rise From The Grave". Of the track guitarist Kyle Beam comments: "'Rise from the Grave' is Undeath refined to its deadliest aspects. Blood curdling vocals, bonesaw guitars, slamming bass, and skull crushing drums, fused with a focused hook that brings the decayed mass together as a banging death metal track. We hope you all enjoy, bang your head and scream along."
Vocalist Alexander Jones adds: "We knew we wanted to go kind of over-the-top with this video but still have it feel like something you might catch on Headbanger's Ball in the '90s. Think 'Sentenced to Burn' or 'Rapture'. Luckily enough we met Errick while we were recording the album and when it came time to start plotting out the video, we knew he was the guy for the job. I think the end result is a great little encapsulation of what our band is all about – big riffs and plenty of gore."
It's Time… To Rise from the Grave, shows the reconfigured quintet – Kyle Beam (guitars), Alexander Jones (vocals), Tommy Wall (bass), Jared Welch (guitars) and Matt Browning (drums) – have retained their mind-infecting sonic savagery but weren't satisfied in their pursuit to improve it through wicked (yet studied) reformulation. It's Time… To Rise from the Grave isn't just an early contender for death metal album of 2022 – it's destined to be a modern-day classic.
Musically, It's Time… To Rise from the Grave was predominantly written by Beam, with bassist Tommy Wall contributing "Bone Wrought". Guitarists Beam and Welch waste no time in establishing the knife's edge, while drummer Browning and bassist Wall hammer-smash faces with brutal proficiency. Beam's carnage-prone lyrics – as ferociously vociferated by front-man Jones – and Matt Browning's gruesome cover art provide a profane platform from which Undeath launch. Every short-timed burst of song – they average three and a half minutes – from It's Time… To Rise from the Grave is a tried and true deathly delight.
Undeath traveled to Philadelphia to record It's Time… To Rise from the Grave with Scoops Dardaris at Headroom Studios in March-April 2021. Dardaris rough-mixed on the fly during the recording sessions, and then required two more weeks after to finalize the mix. Not ones to sacrifice a working team, they brought on Arthur Rizk (Creeping Death, Enforced) to master.
In four years, Undeath have done the unlikely. They have two celebrated, oft-streamed demos, a coveted Decibel flexi disc, two brutish videos ("Acidic Twilight Visions", "Entranced by the Pendulum"), completed a riotous 30-date American tour mid-pandemic with The Black Dahlia Murder, and released a fan-obsessed full-length in Lesions of a Different Kind. To stop now would be contrary to Undeath's diehard, work-hardened ethos. Indeed, they're forging ahead. It's Time… To Rise from the Grave undoubtedly levels up Undeath. The New Yorkers are the vanguard of the next wave of hard-hearted American death metal. Join the undead army now…march or die completely!
It's Time… To Rise From The Grave track-listing
Fiend For Corpses
Defiled Again
Rise From The Grave
Necrobionics
Enhancing The Dead
The Funeral Within
Head Splattered in Seven Ways
Human Chandelier
Bone Wrought
Trampled Headstones
It's Time… To Rise From The Grave will be available on multiple physical formats including various vinyl variants of which – at the time of writing – three have already sold out, as well as on cassette and CD.
Coinciding with the announcement of their upcoming album, Undeath have also announced a string of US shows in support of The Acacia Strain – set to take place this March.
Upcoming Undeath tour dates:
w/ The Acacia Strain
March 4 – The Palladium – Worcester, MA
March 5 – Amityville Music Hall – Long Island, NY
March 6 – Empire – Albany, NY
March 11 – LDB Fest – Louisville, KY
w/ Dying Fetus
May 20 – Rickshaw Theatre – Vancouver, BC
For even more Undeath – fans can also tune in today (January 19th) at 11:30AM PST//2:30PM EST//8:30PM CET for an exclusive live "Death Metal Round Table" interview with Alexander Jones (Undeath), Corpsegrinder (Cannibal Corpse), Chase Mason (Gatecreeper), and Trevor Strnad (The Black Dahlia Murder), hosted by Jon "Staypuft Mallow" and presented by Knotfest. Join the stream here.